Not your average
digital marketing
drive in more leads & grow your business
Digital Marketing Agency philadelphia
Leads by Lordi is a digital marketing agency focused on Philadelphia SEO services. We have everything you need to kick start or expand your business. We have worked for small family owned businesses, and large corporations. We have seen what it takes to grow these businesses and now we want to give you the same chance through our Philadelphia digital marketing agency.
We live in a world where convenience is right at our fingertips. Many of us don't drive around looking for the best place to eat or shop. We don't even call ahead to find out more information. We google it. We entrust the internet to provide us with content that is relatable and desirable. Businesses on the first page with the best reviews are all we look for. There is no need to scroll down any further. 
If you are not one of these businesses on the first page, or even the top 3 listed, chances are extremely low that customers will find you. The good news is that there are ways to get your business more exposure and on the top of the first page by utilizing the correct marketing tools. Get excited, because you are about to find out how to take your business to the next level, and create the online presence that customers are looking for.
SEO (search engine optimization) best practices are our main focus as we begin to work on organically ranking your business and driving more traffic to your website. Speaking of, our Philadelphia web design will provide you with the image you are looking for, but most importantly, allow your future customers to see what you are all about. We always help provide original content that relates to your customers and provides value. If that isn't enough, we will even help manage your Philadelphia social media presence, create an ad campaign through Facebook or Google, and make sure your Google map listing is optimized.
So, what are you waiting for? Let us be your Philadelphia SEO company that helps your business grow to new heights. Or you can check out our partner over at SEO services Salt Lake City Contact us today to get a free marketing audit. We will never push any of our services on to you. Our goal is to educate you with what we believe is the best approach for your specific business, and let you take it from there. After all, this is your business!
The best Philadelphia SEO
Philadelphia SEO will bring more traffic to your website, and believe it or not, optimizing your website can be the difference in exponential growth for your company. Relevant content is what we all are searching for when we go to Google, Bing, or Yahoo, and the results that come up first are being clicked on over 70% of the time.  However, we don't just want any normal traffic that leaves as fast as they arrive. We want the traffic that turns into customers. The ones that keep coming back for more.  SEO practices are constantly changing, and if your current marketing agency isn't changing with it, you won't see the results you are looking for. You can even check out our SEO Georgia services to expand your businesss even more.
Creating valuable content and delivering it to your customers is key. We live in a content filled world, and whether you ask Alexa for a recipe in the kitchen, scroll through Facebook, or search google for the best places to vacation, you are looking for content. Not just any content, but the kind that interests you and brings value to your life. As your Philadelphia SEO company, we focus our keyword research around buyer intent, so we attract customers to your business, not just every day traffic. 
Leads by Lordi wants to help grow your business off of what you do best. Let us do what we do best and create a Philadelphia SEO strategy tailored to your needs and the specific value your business brings. If you are in the Indianapolis area you will benefit from Indianaplolis SEO services , check out Contact us today for a free marketing audit! 
Get your free
SEO Analysis
Philadelphia web design company
Our Philadelphia web design team will create a website for your business to not only bring in potential customers, but one that stands out above your competitors. Those without a website may be viewed as less professional or not good enough to provide the services needed to the consumer. Customers want to see your latest work, what you have to offer, your operating hours, and maybe even pricing. It is more convenient for someone to search the web than it is to give you a call or drive to your business to find out more information. Not only that, but your competition may be stealing the show, when you know your services are superior.
Have you ever visited a website and realized right away that it wasn't what you were looking for? Or it was too difficult to navigate? Leads by Lordi offers web design Philadelphia services that offer visually appealing and simple to use websites that are mobile friendly. Throughout our websites you will see contact forms and click to call buttons which allow your customers to reach you quickly. Additionally, you will find relevant content and imagery that stands out, and an organized layout that is easy to navigate. Tying in Philadelphia SEO with your website design will allow current and future customers to find you. Not only will they see what you are all about, but they will keep coming back for more. 
If you need a website from scratch or would like to redesign your current website, we have you covered. Let us help you stand out among the rest, increase your online presence, and boost sales with more traffic and exposure. Contact us today to find out more about our Philadelphia web design company.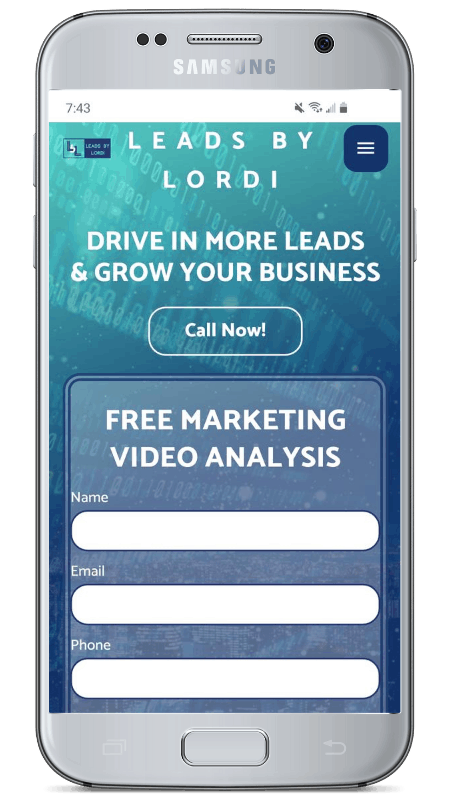 grow your friends list with philadelphia social media marketing
Leads by Lordi is not only a Philadelphia SEO company, we provide Philadelphia social media marketing services unlike any other. Creating a social media presence can easily increase your exposure and loyalty. Not only are these platforms good for building your brand through delivering relevant content, but they are a great tool to utilize in order to engage with your customers. Facebook gives you the opportunity to sell through the marketplace, create an ad campaign, or simply create a page where you can connect with customers. Through twitter you can send out updates or tips relating to your products or services. With Instagram and YouTube, you can share pictures and videos of recent work. There are many options, and with more platforms popping up all of the time, the reach to potential customers is endless.
Leads by Lordi can help you manage all of these accounts and grow your number of "friends". With niche specific ad campaigns, we can use the analytics available to us in order to grow your small business. Time to hop on the bandwagon and utilize all that social media marketing Philadelphia and their 3+ billion users have to offer.
Leads by Lordi will optimize your Google Ads with our knowledge of Philadelphia SEO. Google Ads is the largest PPC (pay per click) network out there. The quick results, unlimited potential, and incredible analytics make it worth every penny. However, running an effective campaign that reaches your target market using specific keywords can take you away from what really matters… running your business.
Leads by Lordi will manage your ad campaign and use the analytics to further your overall marketing strategy. Our goal is to make sure your advertising dollars are spent wisely, and that they are directed to potential customers. Contact us today to set up an ad campaign tailored to your specific niche.
The percentage of clicks Google drives on mobile
The percentage of clicks that lead to calls from the ad
The percentage of clicks the top 3 ad spots receive
Navigate customers through google maps PHILADELPHIA
Google Maps is used every day to navigate consumers all around the world. Searching for a place to eat in a new city, or looking up hours to your local hardware store, all this information can be found with Google Maps. Did you know that it is also a powerful marketing tool? Getting a top-ranking position on the map listing is just as important as ranking your website on the first page of search engines. This listing shows how relevant your business is, and helps consumers decide whether your listing is worth clicking on.
Making sure your business is set up on google is the first step to allowing your customers to find you. Leads by Lordi would love to show you how to do this in order to give your profile a boost. Set up is always free to customers using our Philadelphia SEO services. Contact us today to optimize your Philadelphia google map listing.
Step 1 is to set up your listing with all of the correct information related to your business.
Step 2 is adding in a description and high quality pictures that draw customers to your listing.
Step 3 is Listing your "NAP" (Name, Address, Phone Number) in local business directories.
Get your free marketing
video analysis!
Learn what it will take to outrank your competitors and bring in more customers with a greate online presence